About Me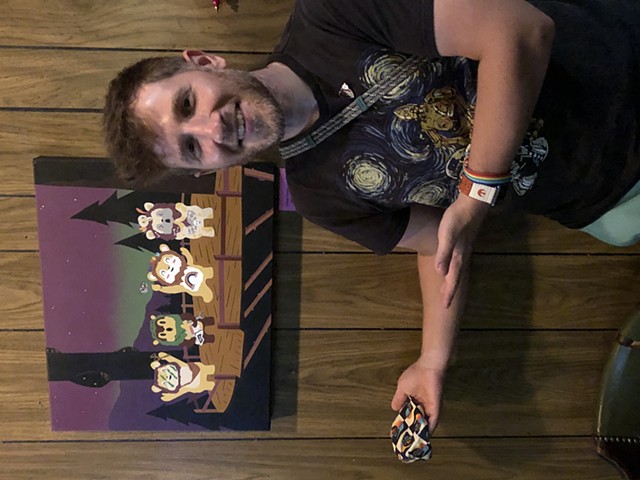 James Eric Hartzell grew up in Atlanta, Georgia where his previous career was focused on coaching soccer. The artist's work is inspired by sports, nature, literature, pop-art, vintage illustration and sign painting.
James graduated from Savannah College of Art and Design in 2009 with a BFA in Illustration. After multiple trips to the Dali Museum over the years, he fell in love with the unique culture and arts scene of Saint Petersburg, Florida which prompted a move to the area in 2015.
The artist immersed himself in the local arts community rekindling a passion for painting and drawing regularly. James has displayed work in exhibits throughout the Tampa Bay Area and has completed mural work for clients both locally and internationally. In March of 2020, James became a member of the Gulf Coast Arts Alliance and began displaying work at the local co-op gallery St. Pete Artworks.
Giving back to the community through charity and volunteer work are incredibly important to the artist. James has worked with local non-profit organization The Friends of the Jack Kerouac House, Inc from 2016 to 2023 helping to provide literary arts programming by curating art and poetry exhibitions, organizing design contests and fundraising events, creating video and social media content, hosting workshops and open mic nights.
When not making art you can find James cheering on the Tampa Bay Rowdies, cooking up a storm in the kitchen, biking around town, dancing with his fiancée or chilling out with his beloved, tree-climbing cat.
Gallery: St Pete Artworks 2604 Central Ave. St. Petersburg, FL 33712
Portfolio: www.ArtByJamesE.com
Instagram: @artbyjamese
Phone: 404-444-5618