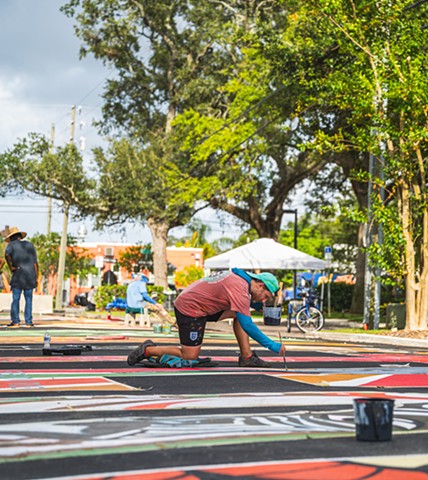 James Eric Hartzell is graduate of Savannah College of Art and Design (BFA 2009). He works as full time professional artist specializing in illustration, murals and sign painting based in St. Petersburg, Florida. The artist has exhibited work in Atlanta and Tampa Bay Areas along with painting murals in Florida, Georgia and Jamaica.
You can find a variety of his original paintings, prints and stickers along with works from 30+ local artists at the local co-op gallery St. Pete Artworks, 2604 Central Ave in St. Pete, FL.
Clients include Liquid Death, The Station House, Florida Craft Art Gallery, The LGBTQ+ Welcome Center, Pinellas Park High School, Southeastern Guide Dogs, Underdog Records, DI Electric Vehicles, Gateway Subs, Dancing Goats Coffee, The City of Clearwater, Maple Street Biscuits, Wine on Wheels, Zaytoon Grill and many more.